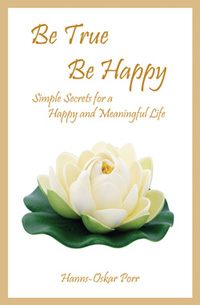 Finding happiness doesn't have to be difficult, it can be as easy as Be True, Be Happy.
In this short and insightful book, you'll find many simple-to-follow Secrets for creating a deeply fulfilling life. Hanns-Oskar Porr explains in easy-to-understand language how you can be happier by living toward what brings you intrinsic joy and meaning. You'll do so by consciously "authoring" your life and its story, strengthening what's important and trimming what's not. Grounded in practical wisdom, spiritual enlightenment, and state-of-the-art psychology, the empowering Secrets presented in this book reveal how to:
Create a rich and meaningful life through "authentic authorship."
Generate happiness at will.
Shatter whatever keeps you from being happy
Discover what you are truly passionate about.
Focus an empowering Vision for your life.
Learn to act true to who you are.
Put a price on the quality of your life.
"One of the best books I've read. It has really helped me to put things in perspective and move forward positively & it's made an incredible difference in my life."   Amazon Reviewer
"Don't be fooled by the brevity (102 pages) of this book: this is a hand grenade! This book will most definitely change your life, or at the very least, change the way you look at YOUR LIFE."   Amazon Reviewer
"Definitely a great read!! ... every word had meaning. It's not like other books where you have 'fillers' to make the book seem longer. ... I've read several books on happiness and finding peace and I must say this is one of my favorites."   Amazon Reviewer
"Step by step, the powerful techniques in this inspiring book will help you align your life toward happiness. Come along, and Be True, Be Happy. "Definitely pick up this book. 'Be True Be Happy' is one of the best books on being happy I have ever read. It not only gives you the tools on how to live a more fulfilling life, but also allows you to get to know who you are as a person. If you want to start living your life of happiness the first step is picking up this book. Thank You for showing me that I have the power to live a life of happiness, by just focusing on what makes me HAPPY."   Dee D. -- a reader
"A wonderful pick me up! This quick read jumpstarts you on the way to finding the 'real you' and living authentically. Although this may sound like such a simple concept, few of us truly know how to embrace it. Hanns-Oskar Porr points you in the right direction. Guaranteed, once you embrace these concepts, you will be able to move forward with more resolve, self confidence and happiness as your guides to living a fulfilling life."  PsychLounge -- a reader
How to Order
Print: 104 pages, 5.25x8" Softcover, ISBN 978-0-9841064-3-1
$12.95 amazon.com
Kindle e-book edition
$9.95  amazon.com